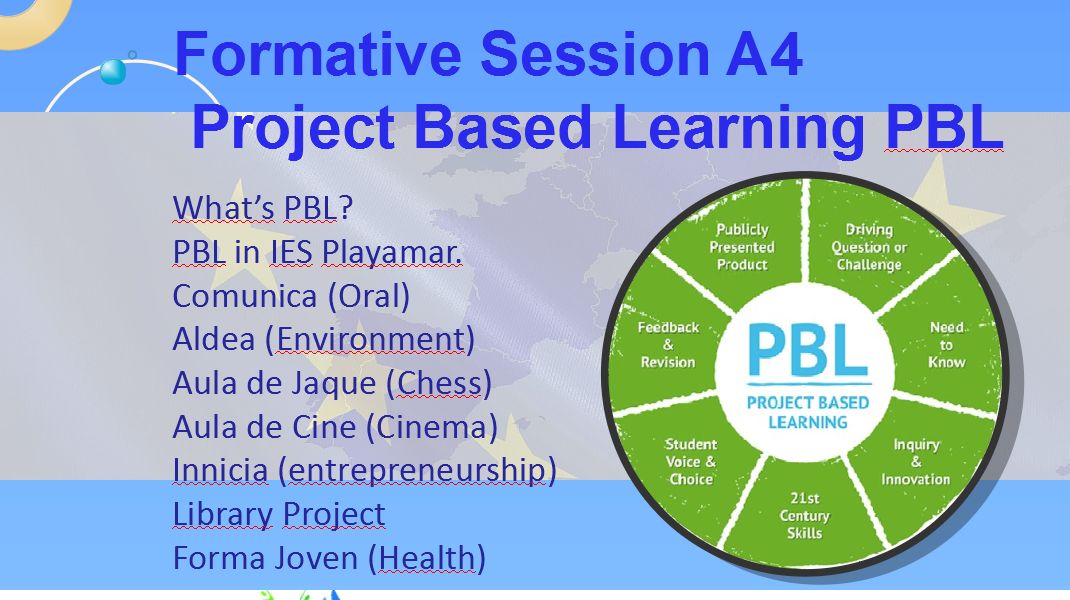 Every meeting in this project has some Formative Sessions projected in this project we count with 6 sessions which can be seen at the end of the post
This Formative Session A4 Project Based Learning . IES Playamar Cases.. was developed as a workshop in two parts .
The first part was developed by A. Ballesteros who explained the background of the PBL and how it was used in some examples in ies Playamar in the following educative programs
Comunica (Oral projects)
Aula de Jaque (Chess projects )
Aula de Cine (Cinema projects )
Innicia (entrepreneurship projects )
Library Project
Forma Joven (Health projects )
The second part was imparted by Pablo Navarro who presented how the Aldea project (Environment project ) was developed in our center and the awards that it had been granted.
You can see the PDF presentation in our library
From this lines we would like to thank Pablo Navarro and A. Ballesteros for its help and implication in the project.
INNOVATIVE METHODOLOGIES FORMATION in C1: Mobility Spain
A0: Set up the TwinSpace & eTwinning platform.
A1: Official presentation of the project to stakeholders.
A2: Platforms for effective and secure communication: Twinspace.
A3: Problem-Based Learning with google classroom tools.
A4: Project-Based Learning (PBL). IES Playamar Success Case.
A5: Cooperative learning and inclusive methodologies. IES Playamar Co-tutories.
A6:Dimensions and applications of emotional intelligence. Mindfullness Creativity crafting Mindfulness.ICT.Crafts