This Mobility C6 Estonia Mobility has been configurated as the 6nd European Congress: "Creation of Collaborative Networks as Basis of Territorial Development" of the Project : Using ICTs to preserve European Craftsmanship. with code 2019-1-ES01-KA219-065673
This movility was originally planned for 02-2020 but due to COVID Restrictions it has been delayed to April of 2022.
In this congress Teachers and students from the differents schools of the erasmus project participated in the following activities : cultural activities, formation sessions , exhibitions and Working Sessions.
Final Mobility project Ceremony Video
Covid Effects & other problems
This movility have suffer strong problems due to covid Restrictions It was originally planned for 04-2020, Two month after the panthemy was decreted and many of the trips were already paid , we had to cancel everything sometimes with losts.
Finally Thanks to the improvement of the situation of the COVID Restrictions , in the 2022 Christmas Virtual meeting, it has been delayed to April of 2022, however in 2/22 it was decreted the russian war and we had to make many online meeting to carry on with the movility.
Finally it was really difficult to set this date because to establish a common date for 6 schools with differents educational systems it was like solve a puzzle.
Thanks to The estonian team who made a great effort working in a half holidays week (Thanks again) we could to carry on this movility in a successful way.
Planning in PDF
Contents
In this mobility, we will develop the planned contents , but also we will benefy of the crafts especialization of Tallinn and the experience of Saku school.
Handicrafts as the basis of territorial development
The importance of social capital for local development.
Artisan networks as part of social capital.
Craft business networks and socioeconomic dynamism.
How to create local socio-institutional networks
Application of social networks to the artisan sector. on on the printer.
5) Planning Methodology.
We will use Benchmarking because the purpose of this international meeting is to transfer knowledge of best practices, around the central theme of the meeting, and its application to other schools.

The Estonian center has a great capacity and experience in creating networks and a high level of involvement of the entire educational community in this type of initiative. In the training workshops we will use Problem Based Learning, Designthinking and Project Based Learning.
6) Activitities developed
A30: Wayfinding: a window to creativity.
A31: Create collaborative networks with the artisan sector.
A32: Exhibition of ancestral trades in Europe.
A33: Handicraft mini-companies fair.
A34: Official presentation of final products.
SUNDAY, April 24 2022
Travel to Helsinki
Although this mobility woudl be taken place in Tallin, some teams (the Spanish & Czech Team) taking advantage of the posiblity to visit this cultural & artistic town, and with the free Sunday due to flights restrictions planned this visit the previous day of the mobility.
9:00 Take the boat to cross the Baltic sea
This was an incredible posiblibity for students who never had enter such a big ship like this and also see the coast line of tallinn and Helsinki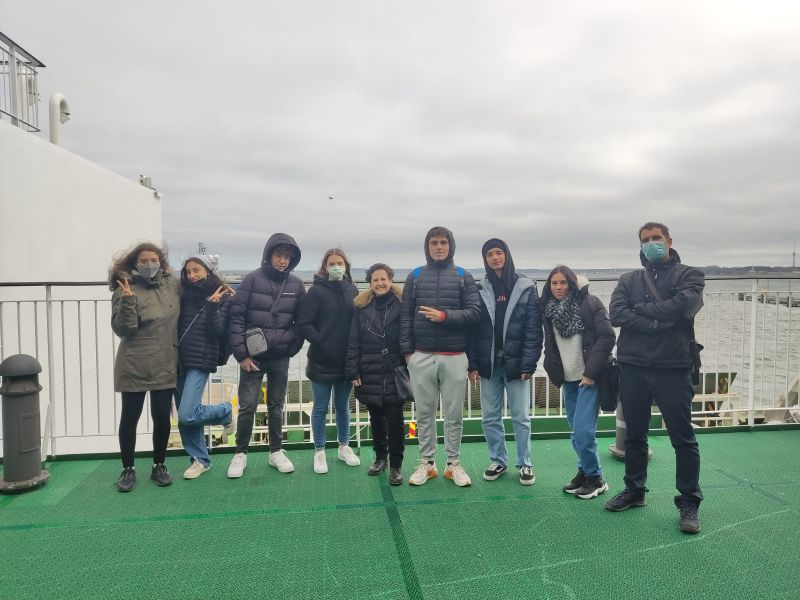 11:00 Cultural tour by Helsinki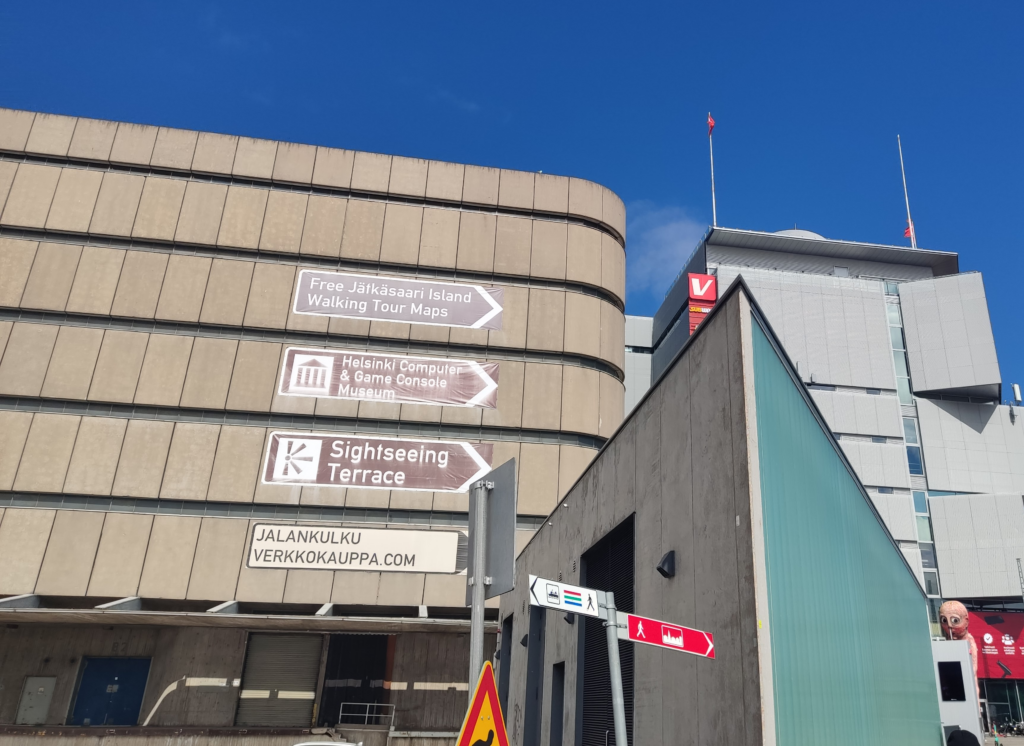 A32: Exhibition of ancestral trades in Europe.
Sinebrychoff art museum
12:00 Visit to Sinebrychoff art museum. The Sinebrychoff Art Museum is an art museum located on Bulevardi in Helsinki, Finland. The museum exhibits the old European art collections (dating between the 14th and 19th centuries) of the Finnish National Gallery. In addition, half of the museum acts as a historic house museum, displaying the 19th century estate of the Sinebrychoff family.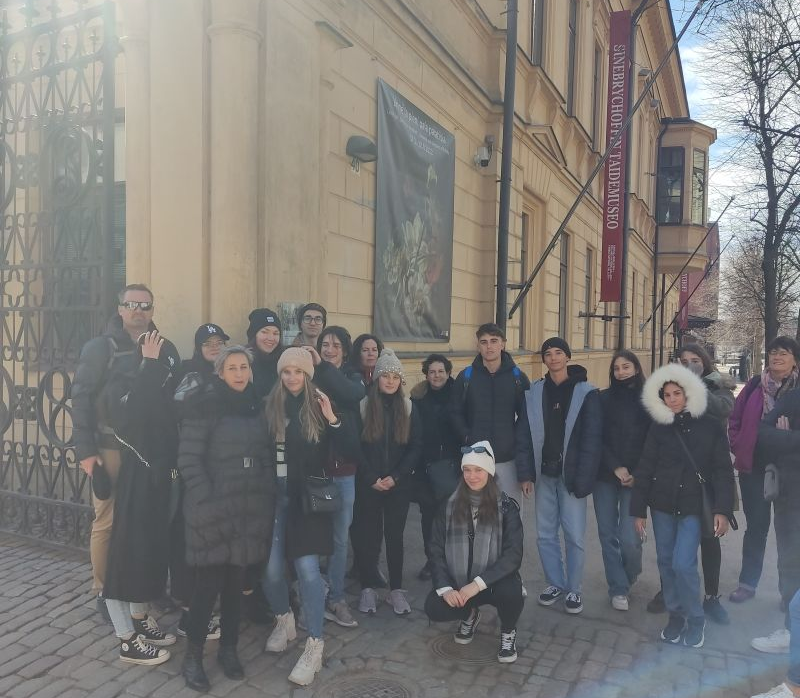 A31: Create collaborative networks with the artisan sector.
Visit to Helsinki craft Market
13:30 The Crafts Market Square (Kauppatori ) is a central square is located in central Helsinki, at the eastern end of Esplanadi and bordering the Baltic Sea to the south and Katajanokka to the east. The Presidential Palace, Helsinki City Hall, Swedish Embassy and the Stora Enso Headquarters building (designed by Alvar Aalto) are all located adjacent to Market Square.
Many of the traditional crafts from the baltic region are present here ( ambar jewellery, Skins, woodcrafs , etc ) .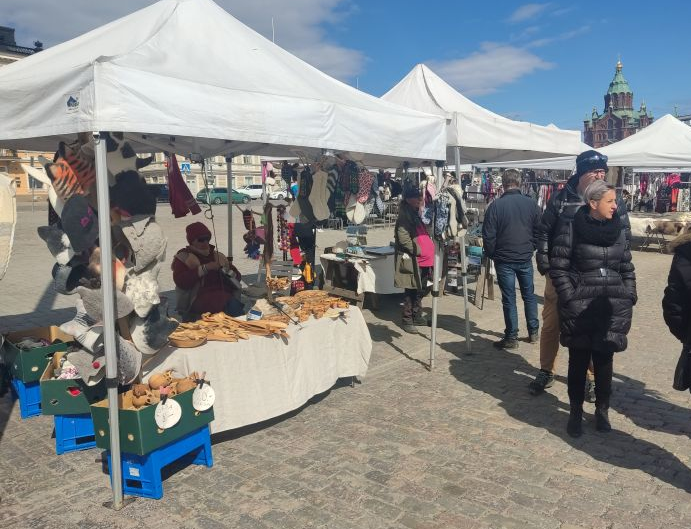 Lunch in Helsinki craft Market
14:00 h in Helsinki craft Market : The Crafts Market Square is a great place to taste the typycal Food and a good price.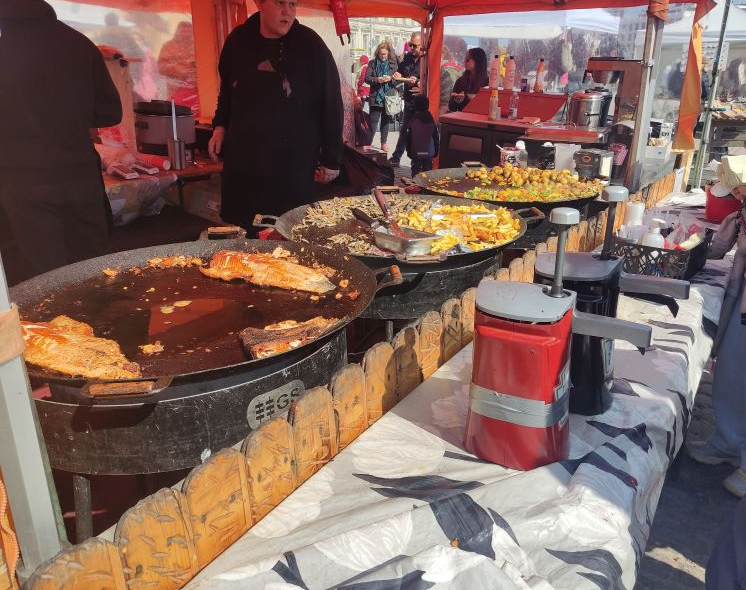 A32: Exhibition of ancestral trades in Europe.
Visit to Suomenlinna UNESCO Fortress
15:00 Suomenlinna is sea fortress built on eight islands about 4 km southeast of the city center of Helsinki.
Suomenlinna is UNESCO World Heritage Site since 1991 which is part of the baltic history.
This visit was a great opportunity for participants to discover the estonian, swedish and Finnish History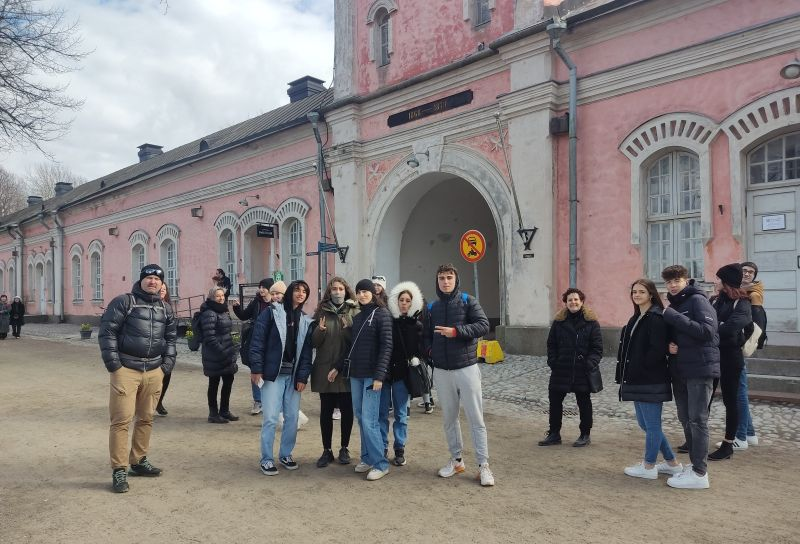 Visit to Helsinki City Center
17:00 Students had the chance to visit Cathedral , Parlament square , City Museum , Tower of Sinebrychoff Park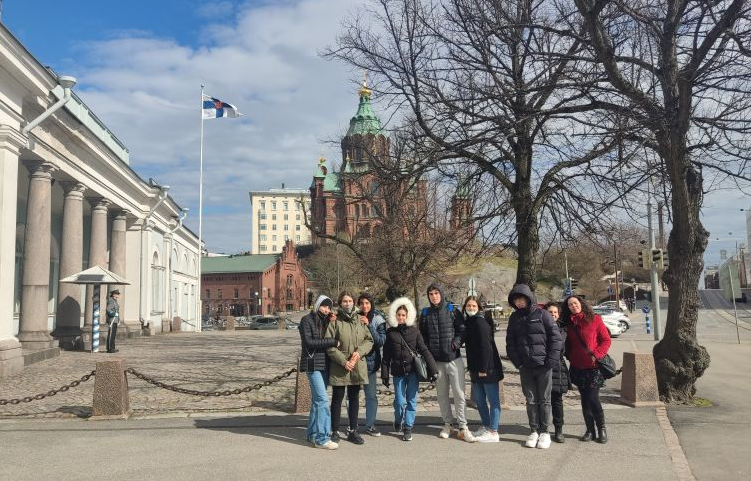 19:00 Back to Tallin in HLS Baltic line
MONDAY, April 25 2022
8.00 Opening Mobility Ceremony
As all the teams where hosted in the same hotel this ceremony take place in Metropol Hotel Conference room This was the planning
Welcome Message by Saku School Authorities
1 Minute of Silence For Ukrania
Distribution by Groups & Presentation of Facebook Group
Presentation of Planning
Deliverance the congress materials.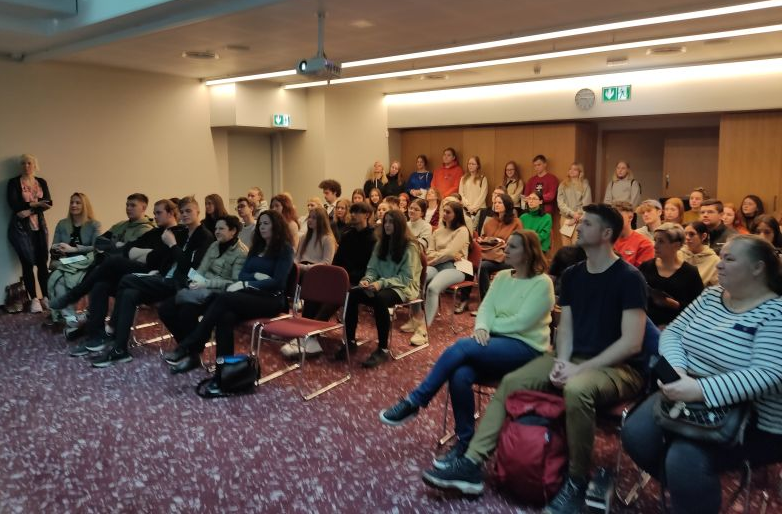 Tallinn´s old town tour. A32: Exhibition of ancestral trades in Europe.
10.00 Visit to Tallinn´s old town tour Guided by Estonian Students and separated by international groups to improve the communication between students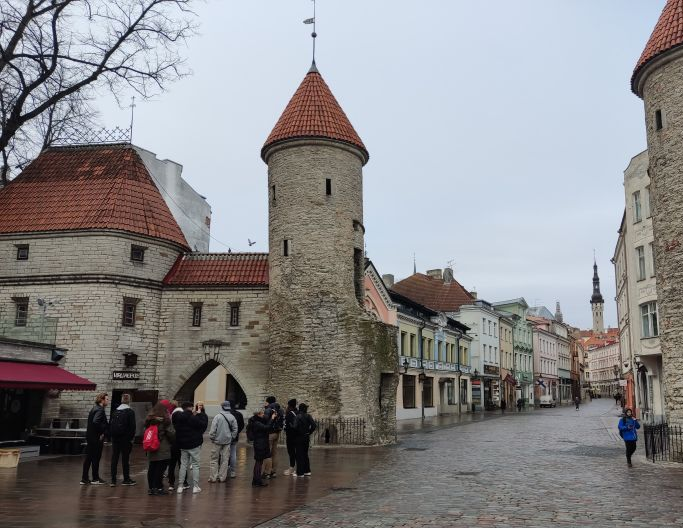 A32: Exhibition of ancestral trades in Europe. 11.00 Raeapteek Pharmacy Crafts Museum – Alchemy Workshop
At 11.00 in the Raeapteek Pharmacy Crafts Museum – Alchemy Workshop, we will assist toanother activity to develop the A32: Exhibition of ancestral trades in Europe.
The Raeapteek ,opposite the Town Hall, at house number 11, it is one of the oldest continuously running pharmacies in Europe, having always been in business in the same house since the early 15th century. It is also the oldest commercial enterprise and the oldest medical establishment in Tallinn.
The first known image of the Town-Hall Pharmacy is an oil painting by Gustav Adolph Oldekop, showing Tallinn's Town Hall Square in 1800. The first photos of the building date from 1889.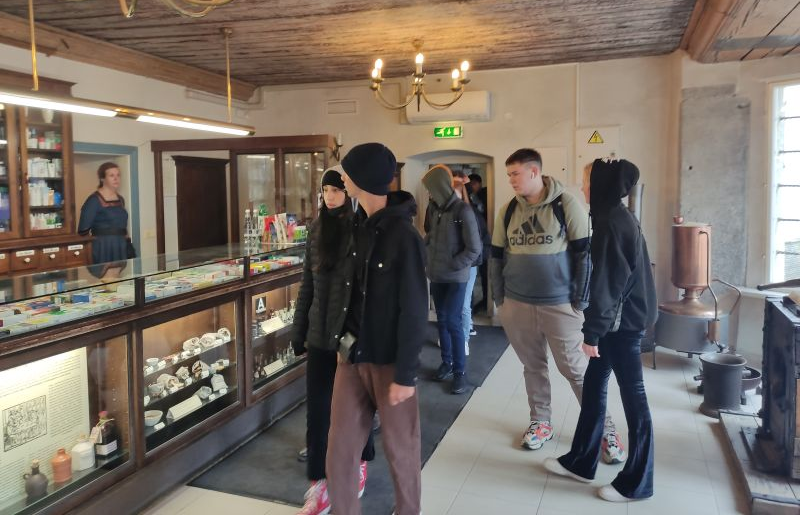 A32: Exhibition of ancestral trades in Europe. Estonian History Museum – Great Guild Hall
At 12.00 we will visit the The Great Guild Hall Estonian History Museum part of the A32 Planned Activity.
The Great Guild or Suurgild in Estonian was a guild for merchants and artisans, operating in Tallinn from at least the 14th century until 1920.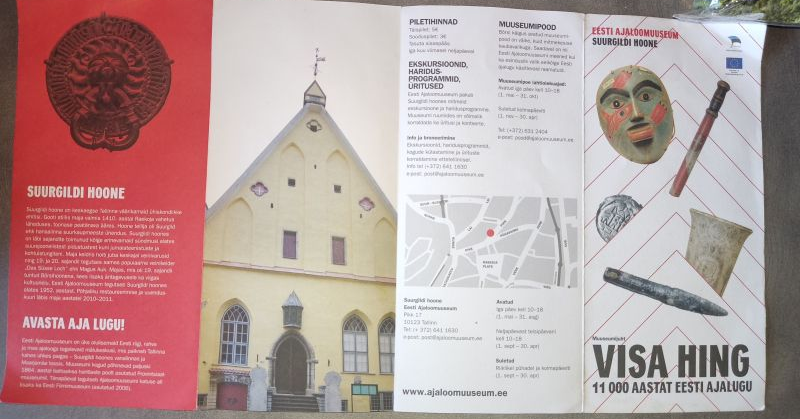 It was based in the Great Guild hall, a Gothic building in the historical centre of Tallinn, today housing the Estonian History Museum. In 2013, the Great Guild hall was named a European Heritage site.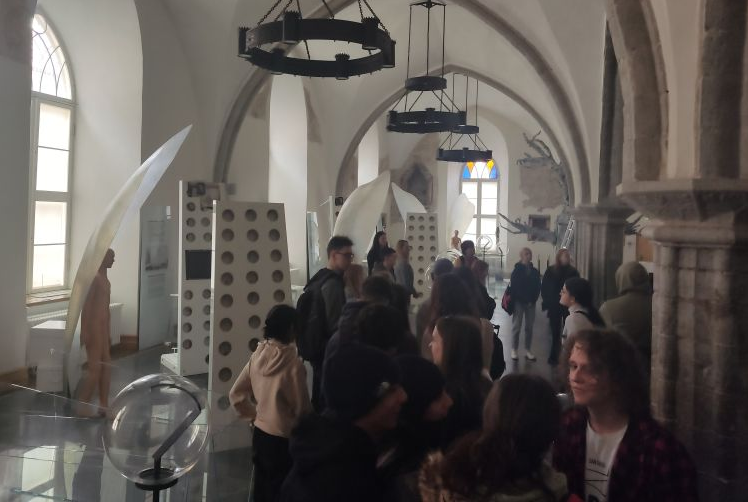 12:30 Ancient Trades Workshop
We recived a workshop about the trades and crafts of the ancient kingdom and how the work was shared in Guild. We had to discover with guild make which tasks.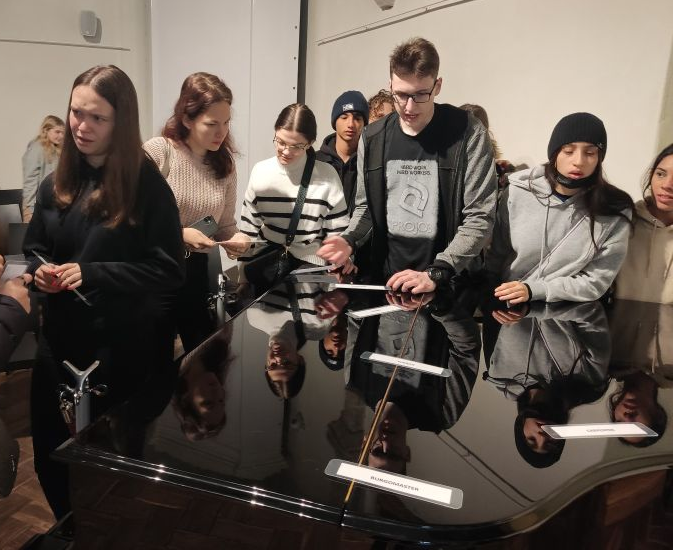 1.30 Lunch at "Tommi grill" (Viru väljak 2)
Private Touristic Tallinn Bus tour and Visit to Song Festival Grounds
At 14.10 we will take a Private Hop on hop off bus at Viru Station which will teach us using headphones the most important points of Tallinn.
Finally we will visit the Estonian Song Festival Grounds a very important point in the live of Tallinn. The Estonian Song Festival laulupidu, is one of the largest choral events in the world, a Masterpiece of the Oral and Intangible Heritage of Humanity. It is held every five years in July on the Tallinn Song Festival Grounds (Lauluväljak) simultaneously with the Estonian Dance Festival. The joint choir has comprised more than 30,000 singers performing to an audience of 80,000.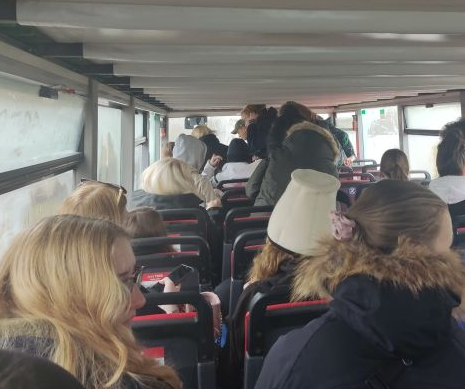 17.00 Students convivence activity and dinner at Bowling Tournament at Kuulsaal (Mere pst 6)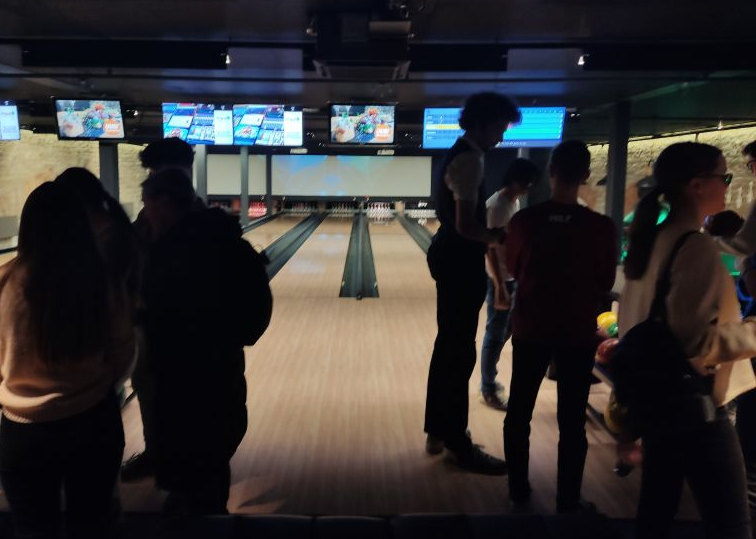 18:00 Teachers dinner in Chicago Restaurant
TUESDAY, April 26 2022
9.30 Bus in front of Mere pst 5 (signed as UIPEC)
KUMU Art Museum
At 10.00 , We will visit the KUMU Art Museum in a guided visit of the baltic art(Weizenbergi 34)
The Kumu Art Museum ( Kumu kunstimuuseum) is an art museum in Tallinn, Estonia. It is one of the largest museums in Estonia and one of the largest art museums in Northern Europe. It is one of the five branches of the Art Museum of Estonia, housing its main offices.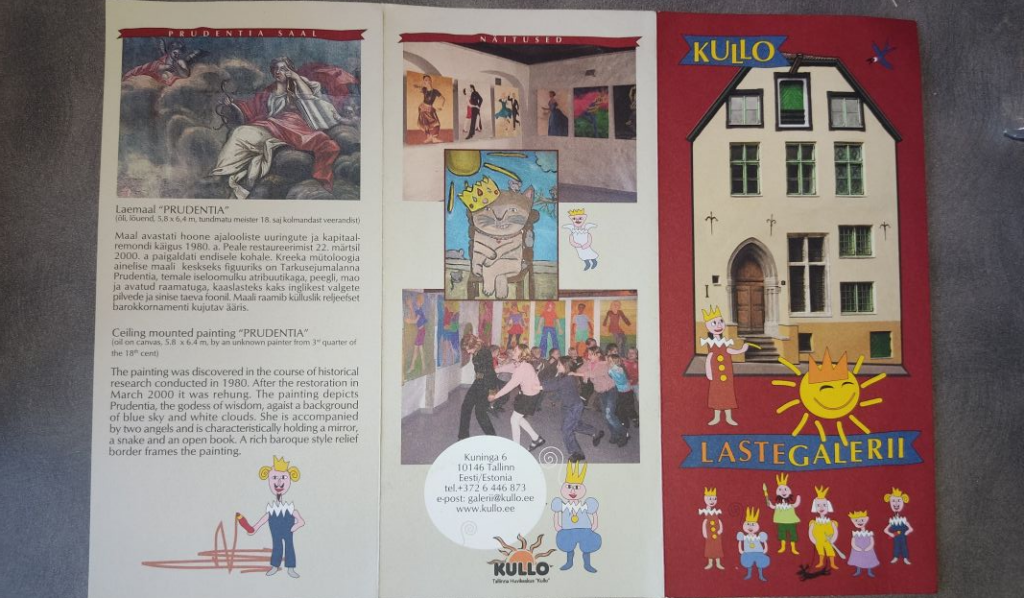 Laste Gallery Children´s creative house workshop
At 12.30 we will visit a very special place a museum with art made by children with problems. Children´s creative house workshop located at Kuninga, 6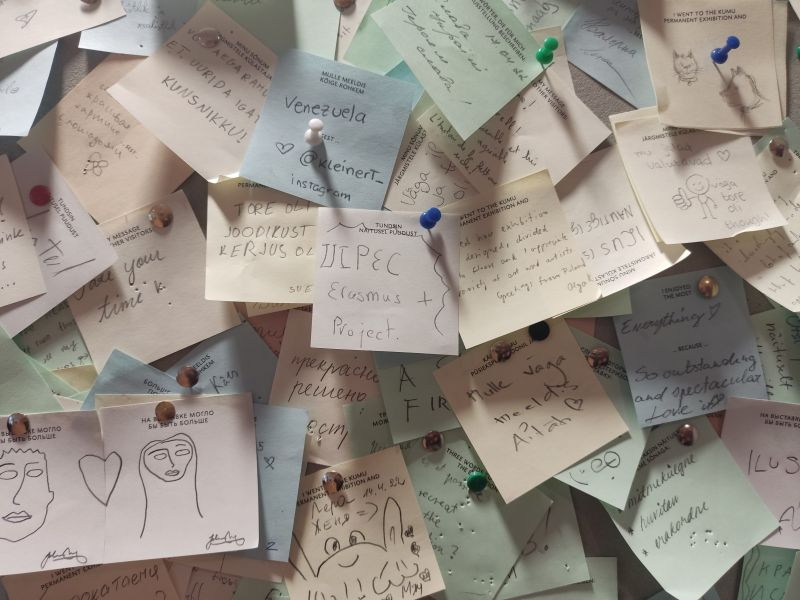 Visit to Loewenschede Tower
At 13.30 we visit Asuur Ceramics Studio in Loewenschede Tower (Kooli 7)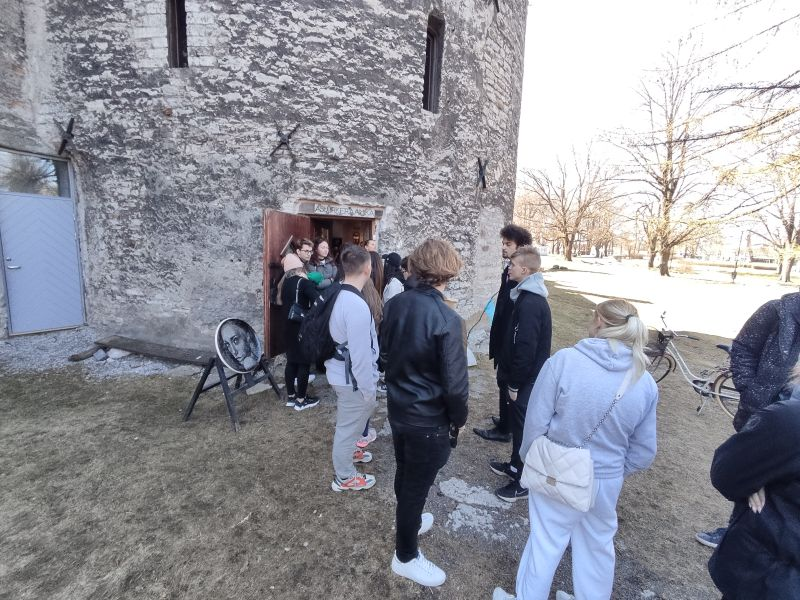 A30 – wayfinding: a window to creativity. Ceramics Workshop
In the lower part of Loewenschede Tower, we could develop part of the A30 – wayfinding: a window to creativity a Black Clay Ceramics crafts workshop where creativty was the most important thing.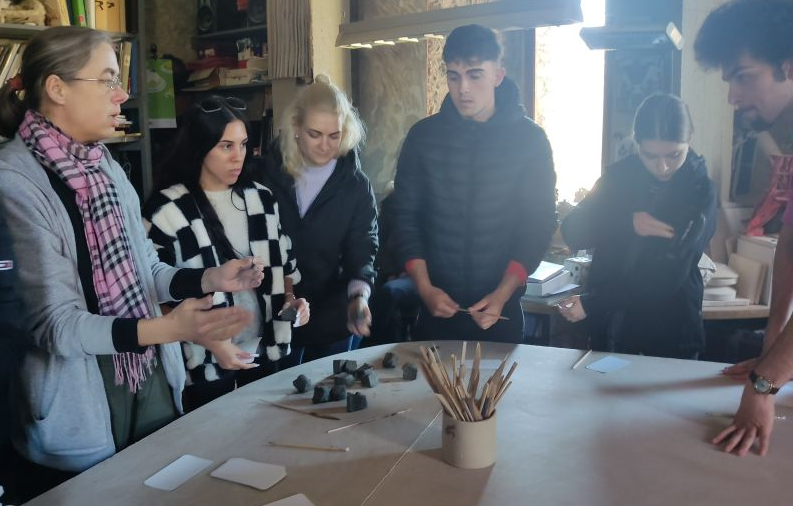 14.15 Lunch on your own choice
15.30 Visit to Proto Invention Factory VR Installations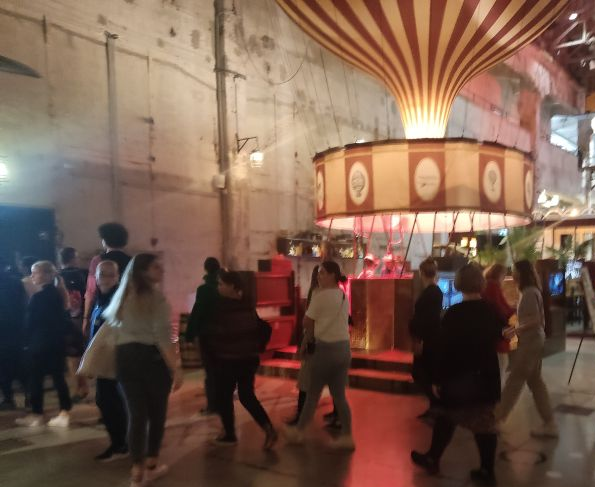 In the Proto invention factory, we develop part of the A30 – wayfinding: a window to creativity.
PROTO invention factory is a unique combination of novel VR technology and prototypes of technology. Also PROTO Invention Factory is situated in the historic Noblessner Foundry. The history of the Noblessner shipyard goes back to 1912, when two Saint Petersburg businessmen built Tsarist Russia's most important submarine factory .
Handmade Crafted Ballons & Science Workshop
Creating a ballon was an art in the centuries XIX and XVIII. In this workshop we learned about how this modern crafters created this Magical dispositives and how we could make one by ourselves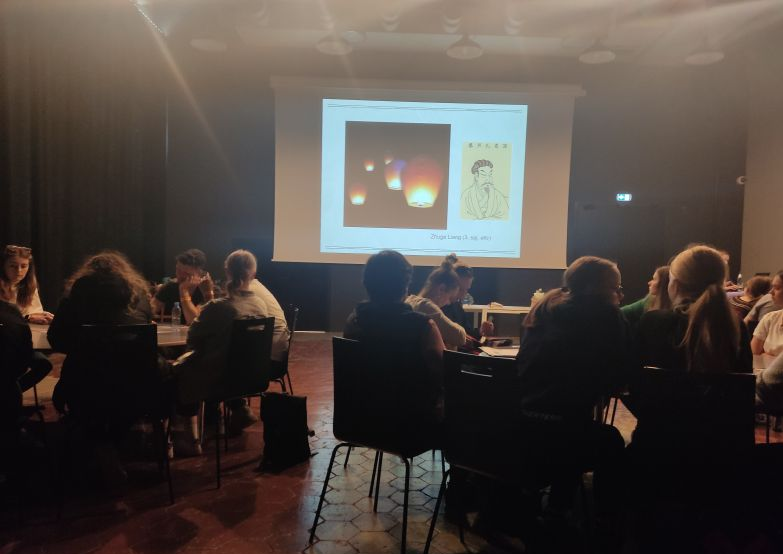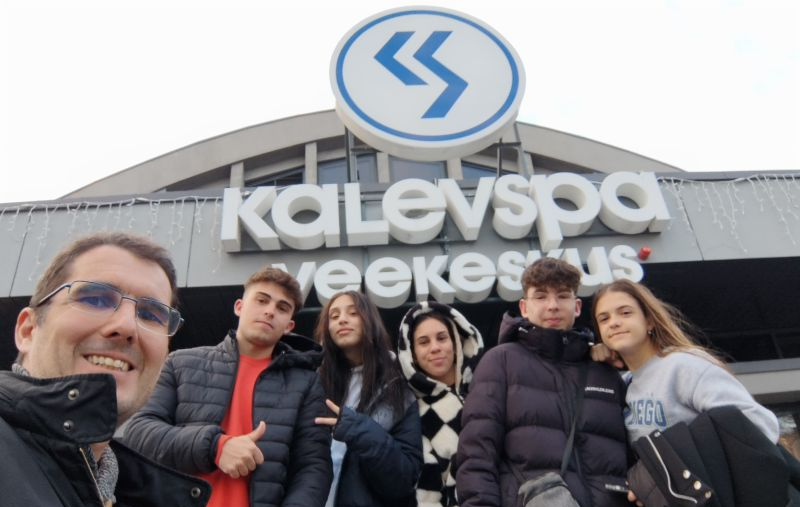 Students convivence activity : Kalev Spa Waterpark.
Students had the chance to enjoy the wonderfull installations of the kalevspa which includes a watepark with amazing slides.
WEDNESDAY, April 27 2022
8.30 Bus in front of Mere pst 5 (signed as UIPEC)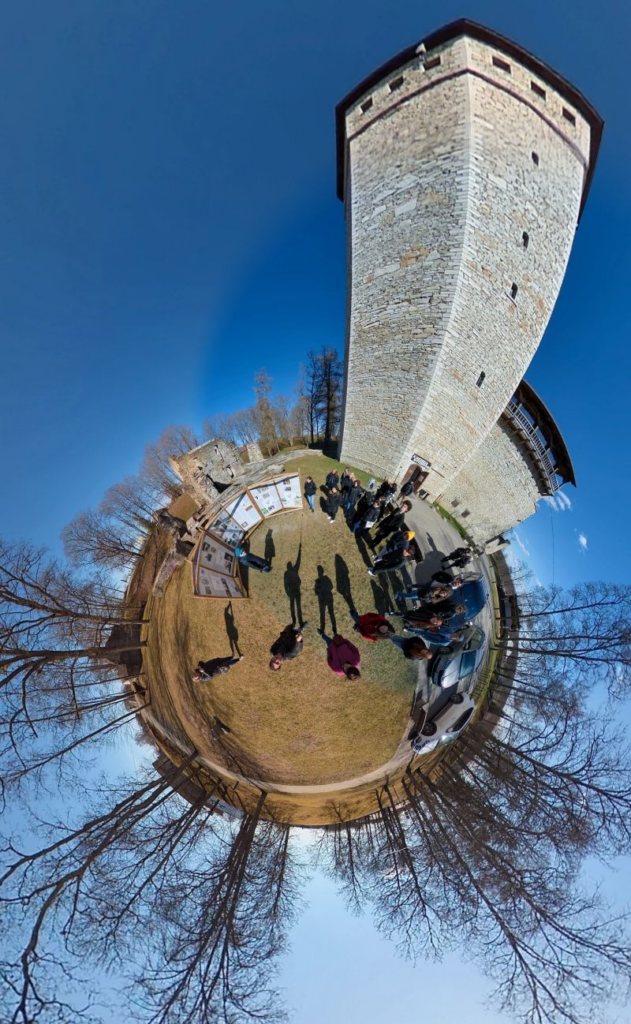 Wittenstein Time Museum in Paide, the heart of Estonia
At 11.00 we Visit the Wittenstein Time Centre in Paide, the heart of Estonia a tower part of a very big fortress which is a vistual part of the history of Estonia.
The tower on Vallimägi Hill in Paide is now home to the Wittenstein Time Centre.
An elevator has taken over the role of a time machine, with displays from different eras exhibited on different floors – the days of knights, kings and stars, the period of occupation, the first Republic of Estonia, and the period of the country's regained independence.
Sound and lighting effects, video programmes and illusions add to the overall effect.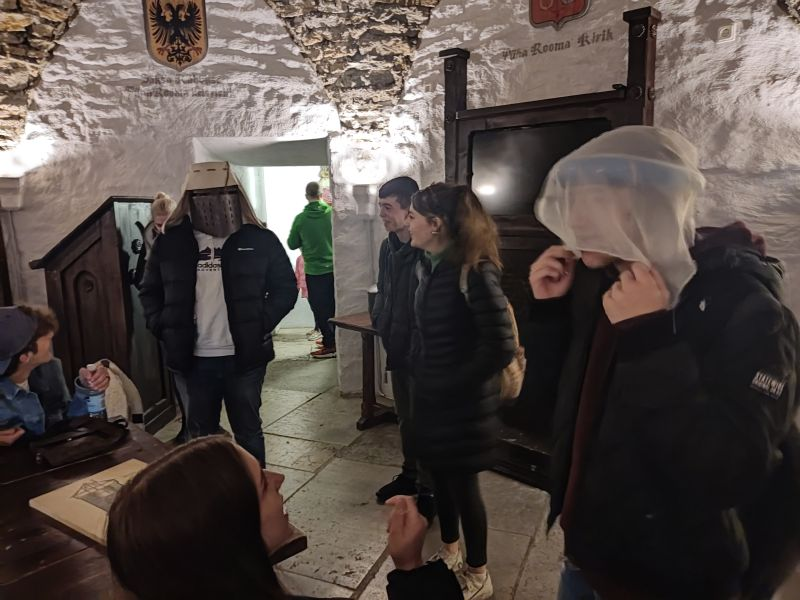 13.40 Lunch at Imavere Tavern
Estonian Imavere Diary Museum
At 14.30, Students and Teachers visit the Estonian Diary Museum in Imavere, an important center especiallized in the diffusion of the crafted Milk products and the importance of this industry in the development of Estonia.
This activity was part of the planned activity A31: Create collaborative networks with the artisan sector.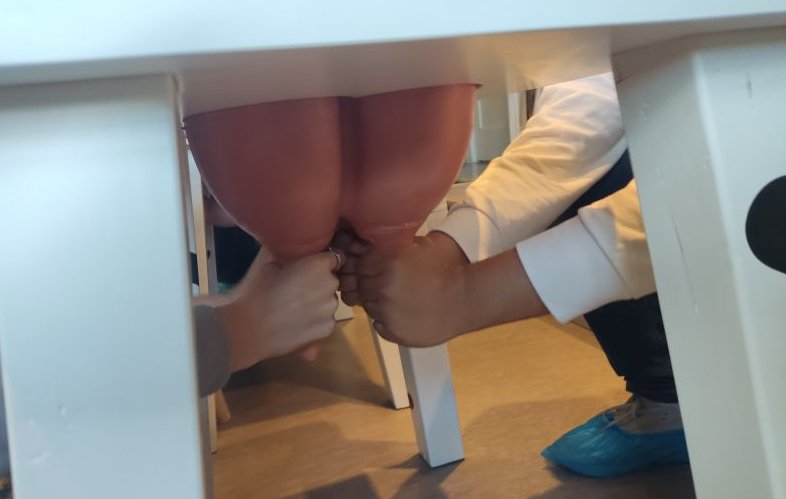 Workshop – making ice cream
Experts from the Imavere Diary Museum, prepared a workshop where students leant to make their own crafted artisanal ice cream…. and tasted it¡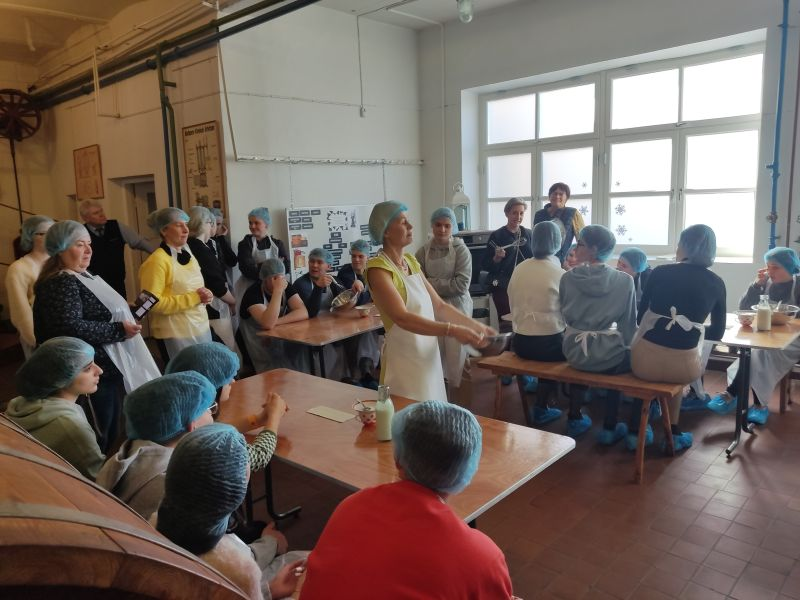 16.30 Visiting handmade candles factory
This activity developed to make the objetives of A31: Create collaborative networks with the artisan sector and A30 – wayfinding: a window to creativity in other interesting activity about candles Creation Workshop where each student learnt to create their own candles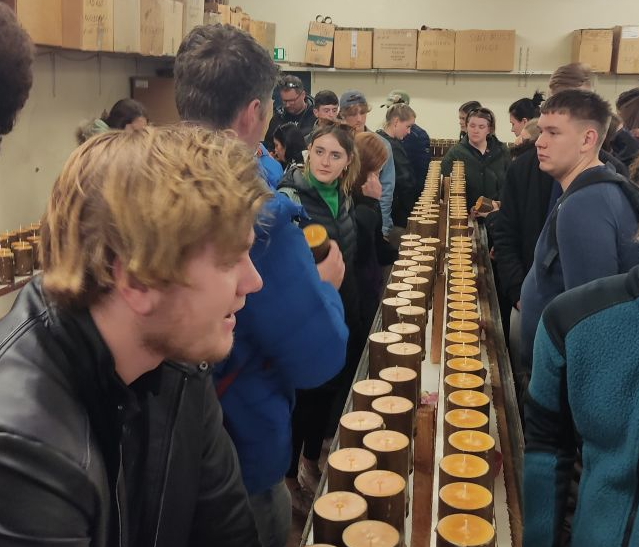 18:00 Back to Tallinn. Each team dinner by themselves.
THURSDAY, April 28 2022
8.00 Bus in front of Mere pst 5 (signed as UIPEC)
Visit to National Park Viru bog
9.00 Visiting Viru bog Viru Bog is a bog in Harju County, Estonia within Lahemaa National Park. The area of the bog is 235 ha. Thickness of peat layer is about 6 m.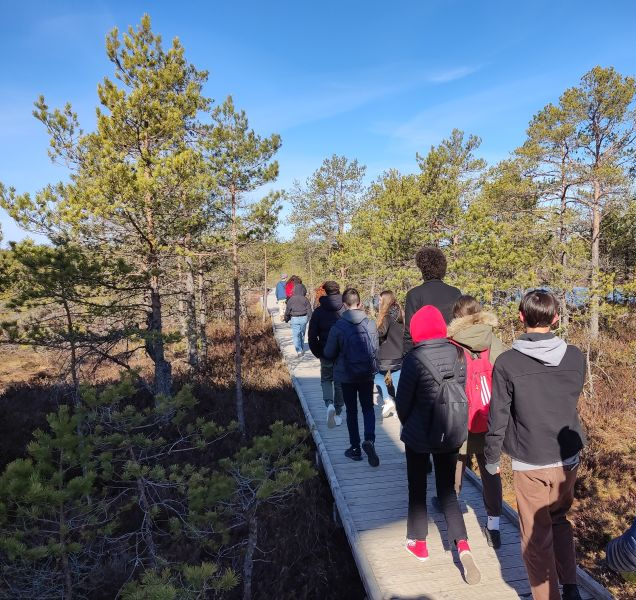 Workshops. Kolga Civil Centre. Workshops .
At 10.40 We visit the Kolga Civil Centre (https://www.facebook.com/kolgaseltsimaja/) an inniciative of local crafters to show students their cultural crafts . The story of Kolga Society House begins in Kolga Parish House, built in 1873. The house belongs to Kuusalu municipality and is managed by MTÜ Kolga Seltsimaja. Separated in Groups we attended 4 workshops of one hour each . This activity developed to make the objetives of A31: Create collaborative networks with the artisan sector and A30 – wayfinding: a window to creativity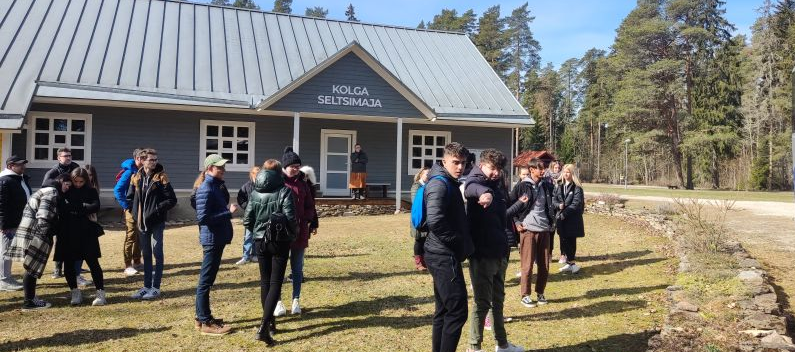 Creation of an decorative wood stick Woodworking Workshop
In this workshop students and teachers learnt to create their own decorative wood stick using a knife, a very common craft in the baltic countries to decorate the gardens.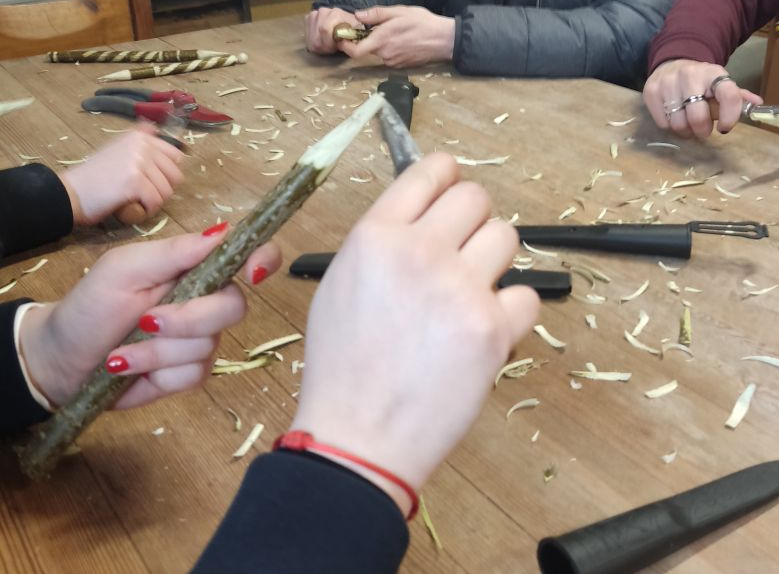 Survival in the forest Workshop
In this workshop students used their creativity to simulate a survaving situation in the forest.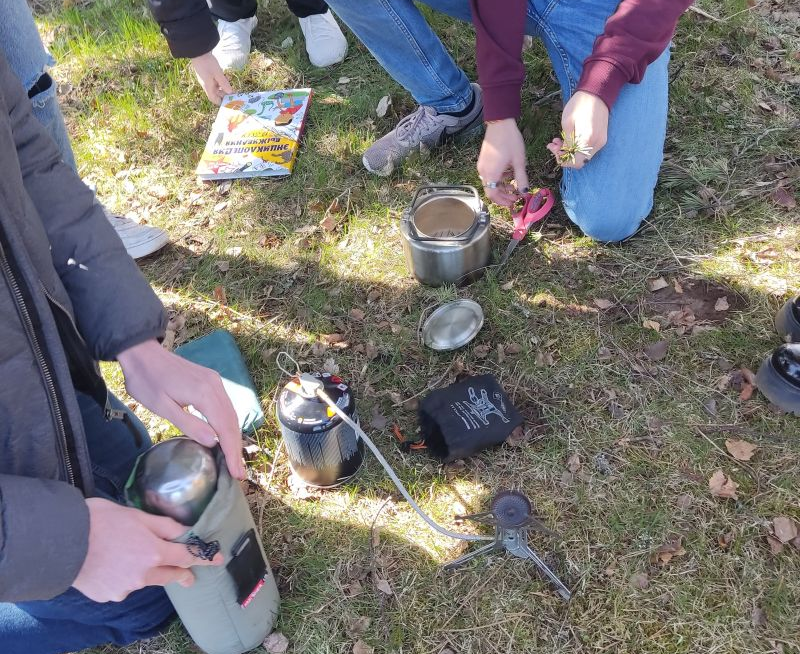 lunch at Kolga Civil Centre.
Making fire in the old ways Workshop
Students learnt how to make fire in the forest.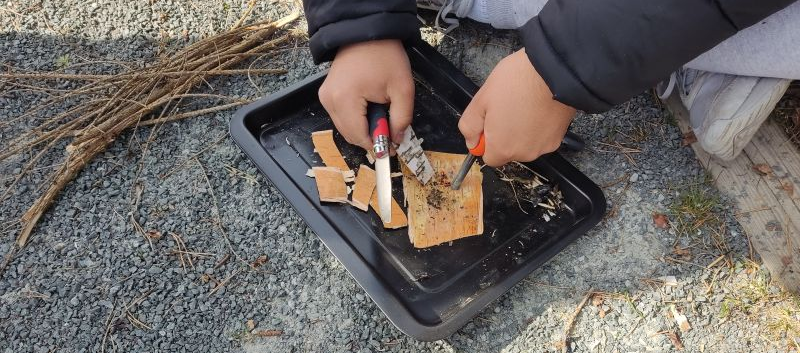 Wedding Strippes Workshop
Wedding Strippes are a typical craft of the Baltic Area, Students and teachers learnt how to create this cultural craft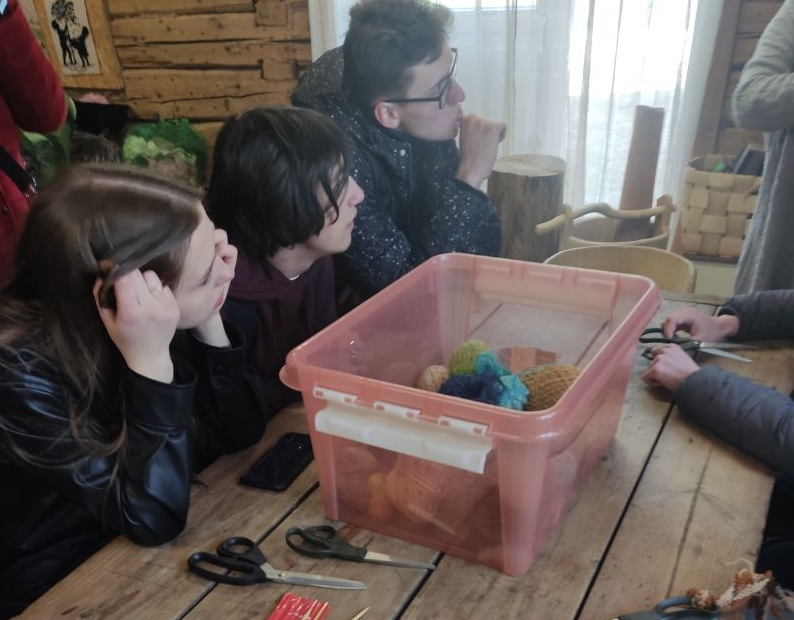 Visit to Jägala waterfall and Estonia Beach
At 16.00 students and teachers got a wonderfull view of one of the most impresive waterfalls in Estonia, the celebre Jägala waterfall with their dark waters. As It was pretty near we visit the Kivi Kaberneeme rannas Beach with was very nice for students .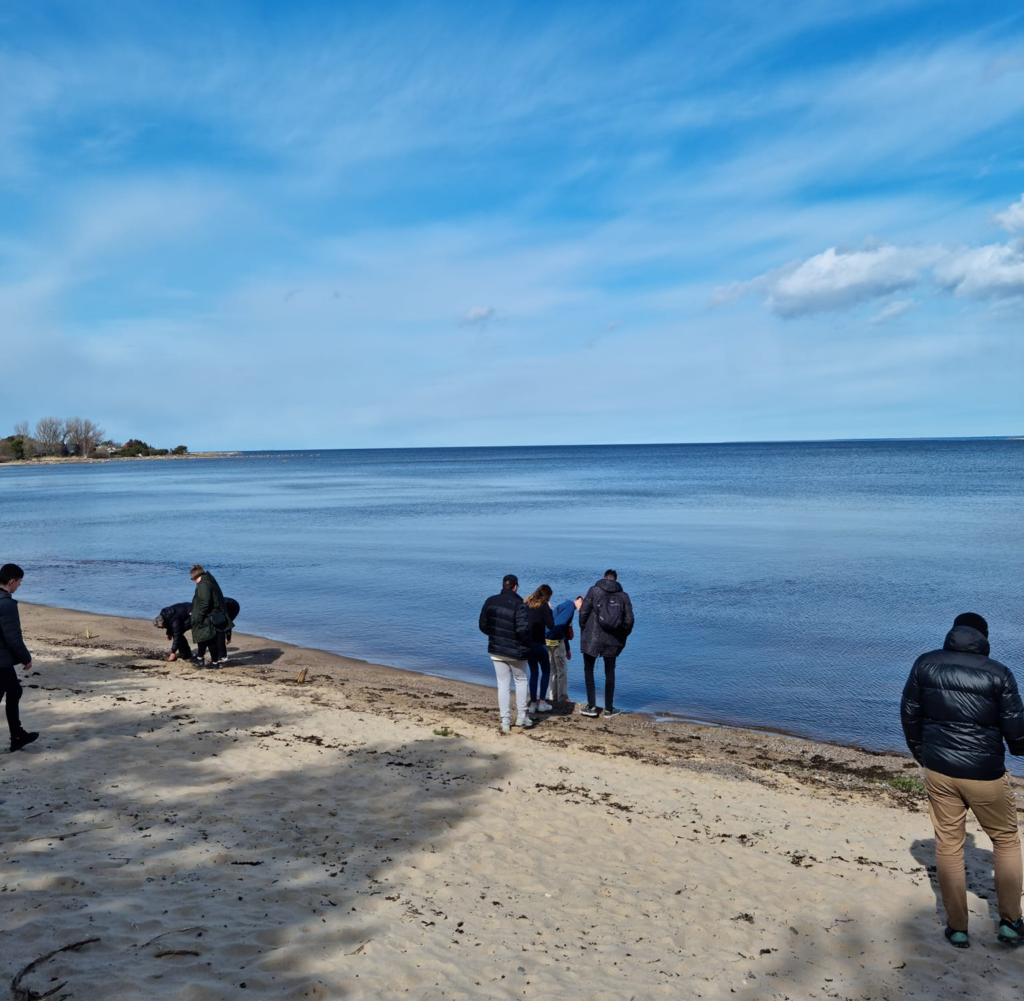 Visit to Tallinn Walls
Tallinn Medieval Walls are one of the best preserved walls in the world. We had the chance to visit them before

18.30 Medieval experience restaurant Olde Hansa (Vana turg 1)
FRIDAY, April 29 2022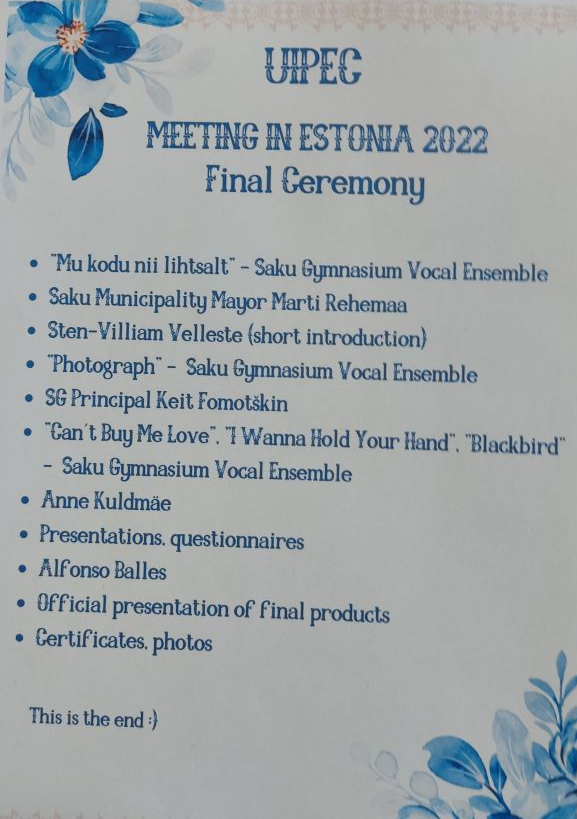 8.30 Bus in front of Mere pst 5 (signed as UIPEC)
C6 Mobility & Project Closing Ceremony
9.00 Tour in saku school.
One of the most important objetives of mobilities are the learning of ideas that could be exported in other schools.
Saku school is full of this great ideas like the hello Column , The Erasmus corner, the ideas tree and many others teachers take note to implement in our centers.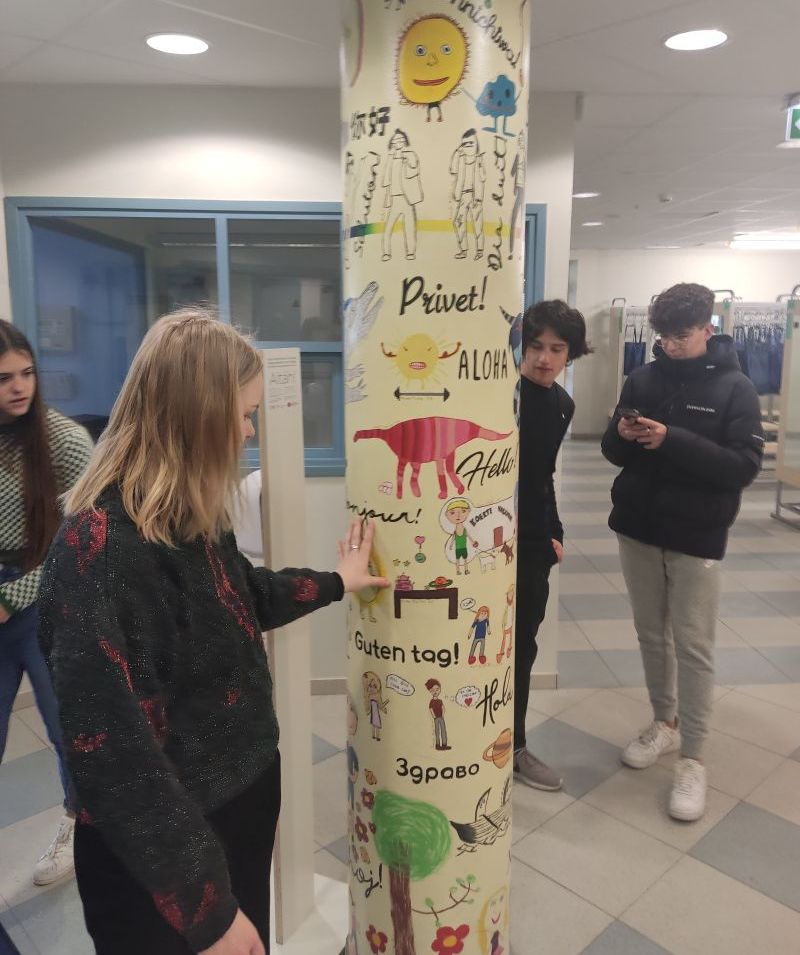 Intervention of Mr. Marti Rehemaa, Mayor of Saku.
Mr Marti Rehemaa, Mayor of the municipality of Saku expressed the support of the city hall to our project and explaned us the most important facts about the town of Saku.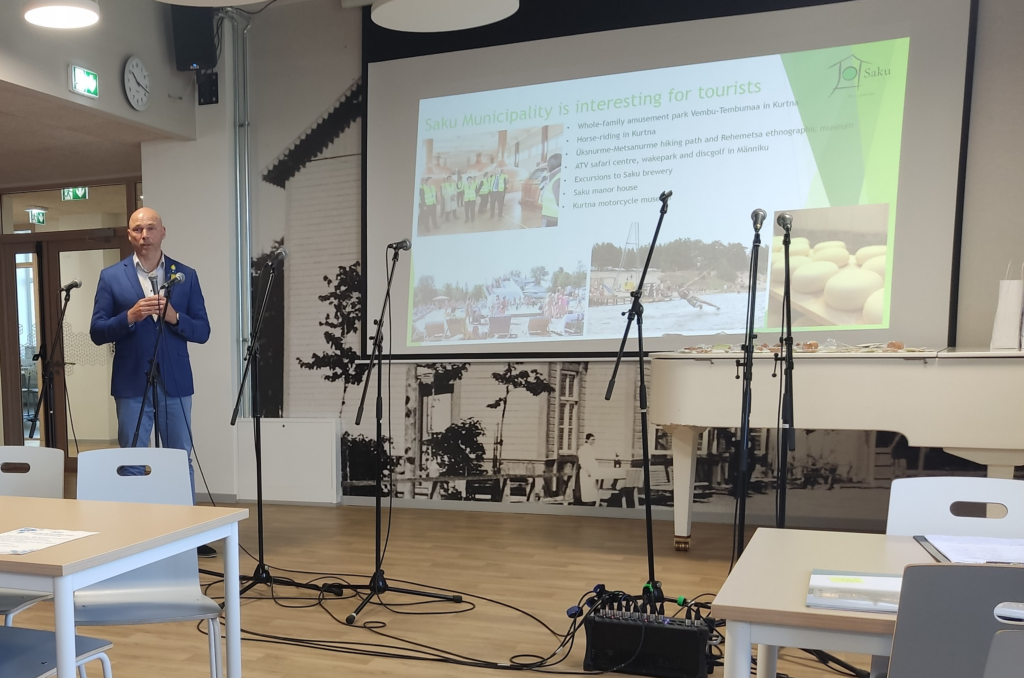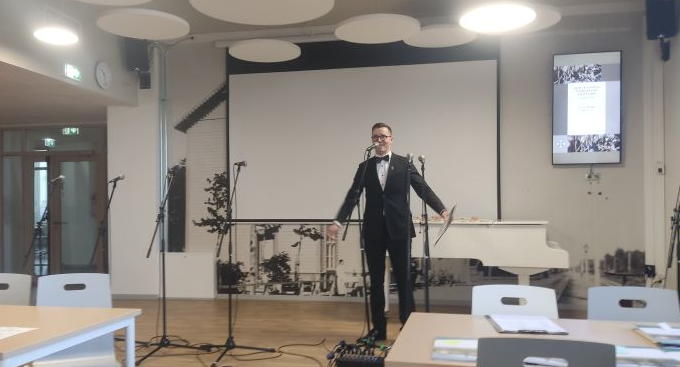 Intervention of Mr. Keit Fomotskin Saku School HeadMaster
Mr. Keit Fomotskin Saku School HeadMaster expressed how important had been this project for their school and the support of the school to all these innovative inniciatives.
A33: crafts mini-companies fair
One of the planned activities of this movility was the presentation of the Craft Companies that students had created during the project. Students prepared their Craft Companies using canvas model and presenting them.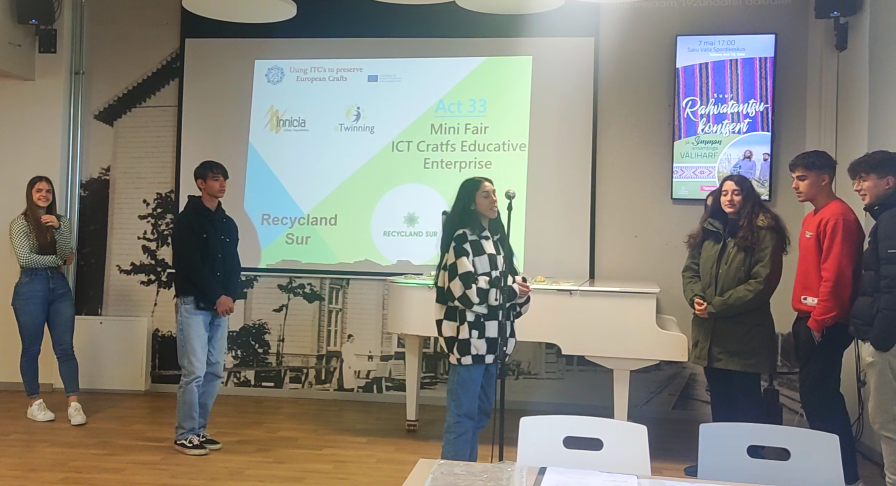 A34: Official presentation of final products
In this mobility, we make the presentation of the final products of the projects
11.30 Board game Tournament
One of the final products of the project developed in the project was the creation of a board game about crafts that was developed in the Czech Republic mobility and that was translated to the 6 participating languages (This game can be downloaded here http://eucrafts.eu/a41-board-game/)
Czech Team Prepared a Game for each country and we make a tournament with the students.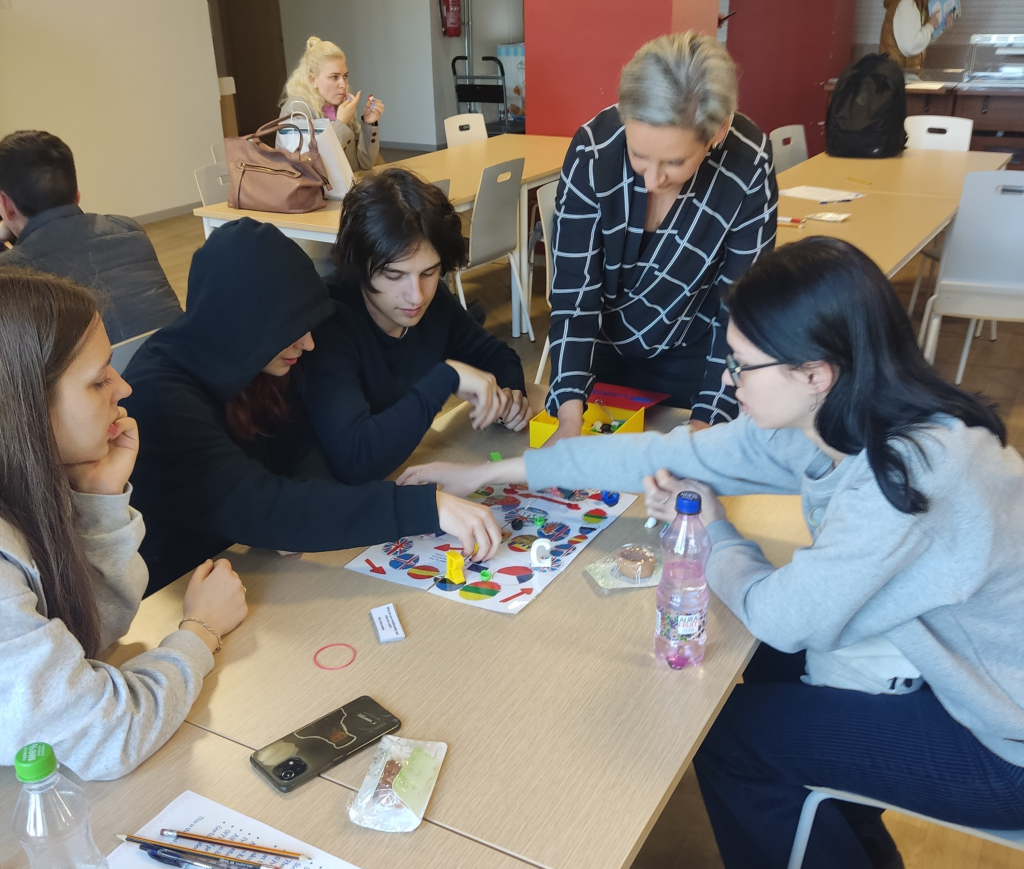 Evaluation
One of the last tasks made for the participants was to fill the Evaluation form.
https://docs.google.com/forms/d/e/1FAIpQLSdymrTx4cVtmDHvgDiF6eE-5v7RuQlQJDW9tPbGicGOEA_Y6Q/viewform
12.30 Closing Certificate Ceremony
13:15 Bus back from Saku to Tallinn
16:00 Tallinn Historical Visits
This afternoon is recomended for the Teams who have the flight in satuday to visit places which coudn`t be visit in during the week such as :
–> Kiek inde Kok Museum (https://www.visitestonia.com/en/kiek-in-de-kok-fortification-museum/)
–> Master crafters Katarina Street (https://www.katariinagild.eu)
–> Eesti Nukukunsti Maja (http://www.estoniadolls.com/ee/)
–> Palace Kadrioru loss ja park
Dissemination
This congress was diseminated in several ways.
At the Educative level of the School with its inclusion in the school website and in the Social networks of the school
Several Local Media take information of our mobility
We created an Etwinning event : so that many colleages could follow the activities
From this lines we want to thank organizators them for their attentions.